BUILDING A SUCCESSFUL ONLINE BUSINESS JUST GOT EASIER....
YOU'RE JUST SECONDS AWAY FROM THE ESSENTIAL TRAINING, ADVICE & SUPPORT YOU NEED TO PLAN, CREATE & GROW A PROFITABLE, MEANINGFUL MEMBERSHIP
STOP US IF ANY OF THIS SOUNDS FAMILIAR...
If it does, then you already know what a minefield it can be trying to get quality advice & support
THAT'S WHAT INSPIRED US TO BUILD THIS PLACE
We were fed up with hearing stories about good people with a great idea, just like you, being left stuck and let down in their pursuit of membership site success, thanks to:
Thankfully, all of that is behind you...
Introducing FtheHustle Insiders
The Academy is the leading training community for membership site owners.
It's a membership about memberships!
And it's packed with in-depth, practical training and resources on all aspects of planning, building, running and growing a successful membership website.
PLUS the community support you need to ensure your membership achieves its full potential.
FTHEHUSTLE INSIDERS WILL HELP YOU:
Build a business you love, that generates predictable, recurring income and finally gives you the freedom and lifestyle you want
Eliminate the guesswork and stop throwing stuff at the wall and hoping something sticks by giving you a step by step roadmap to follow
Attract more members and keep them engaged and involved in your site, so that they stick around and continue paying for longer
Tap into the collective knowledge & experience of a community of membership site owners and experts who are there to support each other
Finally get to grips with the technical side of building and managing your membership site - saving you hours of frustration
Become infinitely better at managing your membership on a day to day basis, so that you have way more time and far less stress
WHAT MAKES FTHEHUSTLE INSIDERS DIFFERENT?
ACCESS TO EXPERTISE
Tap into our 20+ years experience in the industry and a proven track record of driving the growth of numerous 6 and 7 figure memberships across a broad range of markets.
LOOK OVER OUR SHOULDER
Members tell us they learn a lot from watching us 'do our thing' - the Academy is a living 'case study', and we're transparent in showing behind the scenes of our own business.
WE WALK THE TALK
Where others teach unproven theory or rely on outdated experience - we're successful membership owners ourselves, we're in the trenches with our fingers firmly on the pulse
NO B.S. ALLOWED
We're not into overblown hype, marketing tricks or jumping on the latest shiny bandwagon. Just straight-talking, honest, proven and practical advice. No B.S., no tricks, no 'get rich quick's!
PEER SUPPORT
With over 1200 members - all fellow membership owners - the Academy community is there 24/7 to answer all your questions and provide feedback and support
OUR FULL COMMITMENT
We eat, sleep and breathe membership sites. The Academy is our 100% focus and we love helping our members achieve success. It's all we do, and we're not going anywhere!
Meet FTHEHUSTLE Insiders
Hi, we're Mike Morrison and Callie Willows - otherwise known as "The Membership Guys" - and we've spent years guiding the growth of thousands of memberships, e-learning businesses and online communities
With a combined 20+ years in the online marketing and web development industry, we've been the driving force behind a multitude of 6 and 7 figure membership businesses in a diverse range of industries - from weight loss to coaching to executive training to bass guitar - we have a proven track record of helping great clients to achieve fantastic results.
In 2015 we decided to take all of that knowledge and experience and use it to help entrepreneurs and small business owners just like you to achieve success with membership sites on a global scale, and so the Membership Academy was created. This is now our full time business and we seriously love spending our days creating content and supporting our members.
CHRIS DUCKER
YOUPRENEUR.COM
"Mike and Callie don't just talk the talk, they walk the walk. I've learned more from them on the subject of running and building a successful membership site in the last 12 months than I have anywhere else. Ever. Period! Not only are they clearly leading the way, but they're doing it with professionalism and class. I can't sing their praises enough."
4 WAYS TO LEARN INSIDE FTHEHUSTLE INSIDERS
Membership Roadmap
Our step-by-step guide taking you from idea to successful launch
Looking for a proven path to go from idea to launch with your membership site? Our unique membership roadmap guides you through everything you need to do.
Simply follow the steps and you'll be launched in no time!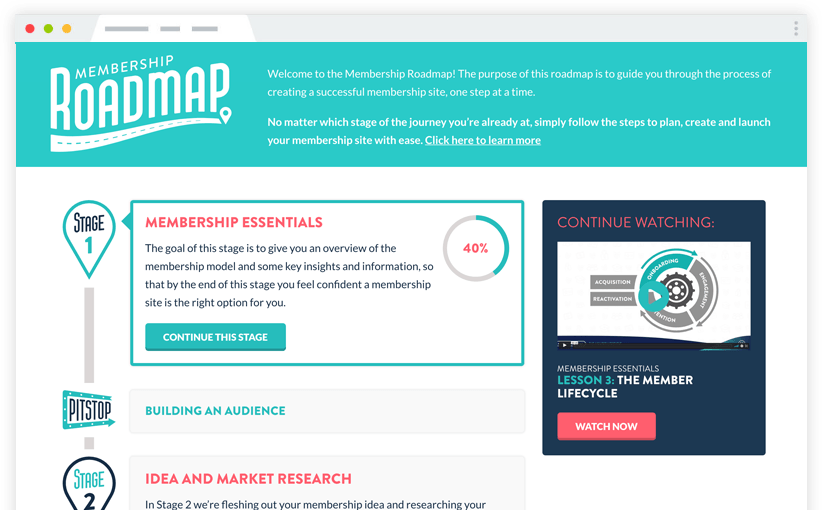 ALL FtheHUSTLE Insiders GET ACCESS TO:
IMMEDIATE ACCESS TO OUR FULL TRAINING ARCHIVE
We have a huge library of content for you to dive straight into as soon as you join, from full courses on topics ranging from creating your membership to launching, onboarding to membership management, to quick win tech tutorials and expert workshops to deep dive on specific tactics.
Learn what you need, when you need to, from wherever you want.
A THRIVING, SUPPORTIVE COMMUNITY OF PEERS
Our community is the heart of the Academy and the place to go for all your questions, asking for feedback, gaining support and getting to know other like minded membership site owners.
We may be biased but we happen to think our members are amazing with a whole range of skills and expertise, and they make the Academy forum an incredible resource to turn to 24/7.
A LICENSE FOR OUR EXCLUSIVE "MEMBERONI" THEME
We've created a WordPress theme to help you get your membership site up and running as quickly as possible.
Designed specifically for membership sites and including some pretty cool features, the Memberoni theme is available free to all active Academy members.
CHECKLISTS, CHEATSHEETS AND WORKBOOKS
Standard Operating Procedures (SOP's), Checklists & Cheatsheets for Essential Membership Tasks, including:
Plus a lot more inside our resource library
...All of this and much more ONLY inside FtheHUSTLE Insiders
REAL PEOPLE, REAL MEMBERSHIPS, REAL SUCCESS
"Just seeing how you're doing things with your membership site has inspired me to make many positive changes to my own. The course videos are also incredibly helpful, as is the member forum (with direct support from you both). The additional time that you have both given to help with ideas is much appreciated"
Mark Warner
TeachingPacks.co.uk
"I feel like I have a pair of mentors as I navigate the challenges of building my membership and starting my business. And the collective knowledge and help from fellow community members just adds to the tremendous value Membership Academy already is!"
Kevin Cheng
"We just closed the doors on our small beta launch to 260 people and instantly turned it into a $20k a year business. The content and community inside MSA made this launch much easier!"
Nigel Moore
TheTechTribe.com
"I was clueless about starting a membership. But with the help of Membership Academy, I've been able to build an incredible community and have a successful launch. If you want to cut out the guesswork, I highly recommend signing up! They literally lay out every step in a foolproof way that basically guarantees results as long as you are committed to doing the work!"
Alisha Robertson
LivingOverExisting.com
"If you're looking for the real deal these guys are it. They've helped me turn what was a 5 figure business into a 7 figure business... In under 12 months! If you're trying to push your business to the next level then you simply can't survive or grow without the sort of guidance and industry knowledge they bring to the table."
Scott Devine
ScottsBassLessons.com
"Membership Academy was a total game-changer and gave me everything I needed to transition to the online membership world - the strategy, the technical guidance, the encouragement and the small details that make a good membership site great. I launched my new membership, and in one week it went from zero to over 1,200 paying members. The Academy played a HUGE role in that success. If you want to follow a proven path and stop spinning your wheels, then MSA is the BEST choice you can make."
Brandon Vogt
ClaritasU
"Joining Membership Academy was the best decision I could've made for my business. The level of clarity, control, and confidence I now have in running my membership is because I found Mike and Callie. They have saved me a lot of money and headaches"
Warren McPherson
PianoLessonWithWarren.com
"You have saved me many hours of grief, saved me from missing out on important things I need to be doing that I didn't even know about and have rescued me when I've been overwhelmed and confused. You've helped me with things that probably seem small to you, but have been huge for me. My membership paid for itself within a few hours of joining."
Kim McKenney
xcskination.com
"You guys allowed me to launch my site within a few weeks instead of a few months! This is such a WONDERFUL community. With what you guys have helped me to build, I have a business with SO much more potential and WAY fewer walls to hit!"
Terra Dawn
UncorkYourDork.com
30 Day No Questions Asked Money Back Guarantee
When you join Membership Academy you are fully protected by our 100% Satisfaction Guarantee. If you don't feel like you've received value and you decide you want to cancel any time within the next 30 days, just let us know and we'll send you a prompt refund. No hassles, headaches or hoops to jump through.
We're confident that you'll find the Membership Academy useful, and we won't make you beg or invoke any silly rules or conditions - if you're not satisfied within your first 30 days then we'll refund you without any fuss.
Get Instant Access 

to FtheHustle Insiders
If you're ready to take your membership website to the next level by enrolling in the Membership Academy, simply choose your payment option below and click the button to join us...
Pay Monthly
Per Month
Recurring payment - cancel anytime in just 2 clicks of your mouse
Hassle-free 30 day money back guarantee​
Join Today
Pay Annually
Per Year
BEST VALUE: Save $138 when you join on an annual subscription!
Hassle-free 30 day money back guarantee​
Join Today
NOT SURE IF MEMBERSHIP ACADEMY IS RIGHT FOR YOU?
Membership Academy is NOT for everyone, and truth be told we'd prefer to help you figure out if it's not right for you BEFORE you join rather than waste your time. So, let's cut to the chase...
Who the Academy is Not For
It might seem strange, us trying to talk you OUT of becoming a member - but truly if the Academy is not the right fit then neither of us benefit. We have a vested interest in your success (you won't stick around long if we're not helping, right?) - and that all starts by making sure the Academy is right for you before you join.
WHAT MAKES MEMBERSHIP ACADEMY DIFFERENT?
Well of course WE think we're awesome - it would be worrying if we didn't! But don't just take our word for it, check out this smattering of nice things people are saying about us in the wild...
Frequently Asked Questions
So, you have questions? Let us try to answer those for you...
If there's anything at all that you're not certain about, anything we haven't made clear; any concerns or questions then please do contact us at support@kimdoyal.com and we'll help you out.
Get Instant Access 

to the Academy!
If you're ready to take your membership website to the next level by enrolling in the Membership Academy, simply choose your payment option below and click the button to join us...
Pay Monthly
Per Month
Recurring payment - cancel anytime in just 2 clicks of your mouse
Hassle-free 30 day money back guarantee​
Join Today
Pay Annually
Per Year
BEST VALUE: Save $138 when you join on an annual subscription!
Hassle-free 30 day money back guarantee​
Join Today